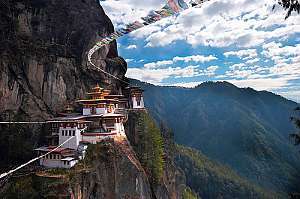 Sadhana of Mahamudra
with Chris Kreeger
Composed by the Vidyadhara Chögyam Trungpa Rinpoche in a sacred cave in Bhutan (see picture) in 1968, the Sadhana of Mahamudra was an important turning point in his presentation of the Buddhist teachings in the West. It is written for modern times, with the expressed intention of overcoming the obstacles and degraded spiritual practices in our time of spiritual materialism. The Sadhana of Mahamudra explains how to transmute the phenomenal world directly into enlightenment through meditation in action.
Program Fee
The Baltimore Shambhala Center relies on program registration fees, as well as on donations, to be able to cover our operating expenses, including the monthly rent. We very much value your paying the registration fee for this program, if you are able to afford this amount.
Scholarships
We want anyone who wishes to study meditation and to experience the Shambhala view of basic goodness to be able to do so. Scholarships are available so that our programs are open to anyone, regardless of what tuition amount they are able to afford. (See link below if your are in need of a scholarship for this program. Scholarship requests are processed online, so that there is no delay in registration.)
A $35 deposit is requested if you can not pay the full program fee now (unless you are requesting a scholarship). If requesting a scholarship, please go to scholarship page before registering.