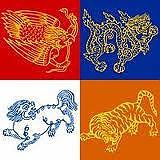 Family Day and Bodhi School
Our theme for 2019-2020 is "The Eightfold Path," the Buddha's teachings on the path that leads us out of suffering.
Join us for FAMILY DAY AND BODHI SCHOOL each month for . . .

Children from Age 2 years to High School
The goal of Bodhi School is to provide a gentle and uplifted environment for children and parents to explore their heart and mind and to develop confidence in the basic goodness of all. Bodhi School is inspired by the Shambhala vision of an enlightened society.
Bodhi School is a collaborative effort that is made possible through volunteer staff and rotating parent participation.
Pre-registration is not required, but completing this online form will register your family for the year.
Parenting as Path Discussion Group
During Bodhi School, parents are welcome to join in this on-going discussion group. The discussion topics explore and apply the principles of mindfulness and Shambhala culture in relating with one's children. Children under age 2 are welcome to remain with their parents in the discussion room.
Schedule:
9:30 AM - Sign in and settle into the space

10:00 AM - Assembly in the Shrine Room -- songs, stories, etc. with all ages together
10:30 AM - 12:00 PM - Bodhi School for kids

10:30 AM - 12:00 PM - Parenting as Path discussion group
12:00 PM - 1:00 PM – Potluck Lunch - Please bring something for the potluck lunch, whatever feels right to you and that your family enjoys. Salads, breads, casseroles, soups, grains, desserts, and beverages are all welcome.

Family Sunday Calendar for the 2019-20 Program Year
September 8, 2019
October 6, 2019
November 3, 2019
December 8, 2019 - Children's Day Celebration
January 5, 2020
February 2, 2020
March 1, 2020
April 5, 2020
May 3, 2020 - Haiku Hike
Suggested Donation
There is no charge for a family's first visit to Family Sundays at the Baltimore Shambhala Center. After that, there is a suggested donation of $15 per session for each family. We understand that this may not be affordable for every family, and we will gladly accept an offering in any amount that you can afford because it's important to our mission that everyone who is inspired to go forward on the Shambhala Buddhist path has our complete support.
This link directs you to a credit card payment form with the option of using Paypal. Please indicate in the notes area that your donation is for Family Sundays. You are also welcome to donate in person at the Center by way of cash or check.
Please note that there is no open sitting nor individual meditation instruction on this day as all spaces in the Center are in use for Family Day.

Email Kathy Cowan ([email protected]), Family Day coordinator, for further information, to be added to our mailing list, and for information on how to help out.