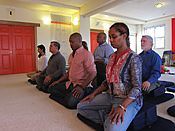 Baltimore Shambhala 24-Hour Sit-A-Thon
Join us for this fun and unique event!
Opening talk on Saturday at 6 PM by Jennifer Yarbro ("Generosity is the Doorway to Bodhicitta")

Meditation and other practices, such as compassion practices and the Sadhana of Mahamudra, beginning Saturday evening and continuing through 6PM on Sunday

Green Tara practice with Linda Catling on Sunday, from 10:30 a.m. to 12:30 p.m.

Enroll sponsors for the time you meditate

Sponsor someone who is meditating

Make a donation directly to the Center
The funds raised during this Sit-A-Thon will be used to continue to provide a safe and sacred space for community members to practice meditation. They will also enable us to support community members with limited financial means through scholarships to Center programs.

If you can't be here for the whole time, commit to what part of it you can.
Snacks and beverages will be provided in the community room, as well as space for breaks and walking meditation. On Sunday, we will provide a healthy breakfast and lunch.
All donations are greatly appreciated. BSMC is a a 501(c) 3 organization.
For more information and to register, please click on the following link:
https://bsmcsitathon.dojiggy.com/b1214e6/regPages/pages/?p=190004