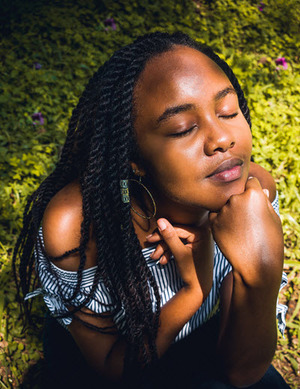 Encountering Basic Goodness: Shambhala Training Level I
with Dr. Shanté Paradigm Smalls
Scholarships available -- see below
Shambhala Training is a secular path of spiritual training that develops fearlessness, confidence, openness and gentle action in the world. This action arises out of meditation practice and the study of Shambhala Warriorship. Through the practice of meditation, we glimpse unconditional goodness as the ground of our existence. Opening to ourselves with gentleness and appreciation, we begin to see our potential as genuine and compassionate human beings.
Encountering Basic Goodness: Shambhala Training Level 1 is suitable for those with little or no meditation practice, as well as practitioners who wish to integrate mindfulness practice with their daily lives. Engaging the mind, we glimpse the world's magic without conceptual filters, and begin to discover a basic goodness, which is always present. The program will include: meditation instruction, teaching talks, private interviews with meditation instructors, group discussion, meals, and lots of meditation practice.
Program fee includes breakfast and lunch on Saturday.
Children are welcome at this program. When registering, please list the names and ages of children accompanying you in the comments section of the registration form.

About the Teacher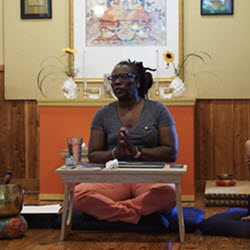 Dr. Shanté Paradigm Smalls is a student, practitioner, and teacher in the Tantric (Vajrayana) Buddhist tradition. Shanté began studying and practicing Buddhism at age 17 and has practiced in Zen, Sokka Gakkai International, Shambhala, and Bhumisparsha communities. Shanté trained from 2009 to 2015 as a teacher and was authorized to teach meditation and buddhadharma in 2015. Shanté is focused on the healing impact of meditation in Black & Indigenous communities, People of Color communities, LGBTQ+ communities, and incarcerated and recovery communities. Shanté is a Teacher on the Liberate App and teaches regularly on Weekly Dharma Gathering Online which they co-founded and curate.

Shanté's root guru is The Kongma Sakyong, Jamgön Mipham Rinpoche*. Shanté is currently studying with Lama Rod Owens and Lama Justin von Budjoss co-founders of Bhumisparsha and Karla Jackson-Brewer, Sangha Leader at NY Tara Mandala.

*NB: In 2018, credible allegations of sexual misconduct and abuse were revealed against Sakyong Mipham Rinpoche, to read more about this: https://bit.ly/32RqR5R
Program Fee
The Baltimore Shambhala Center relies on program registration fees, as well as on donations, to be able to cover our operating expenses, including the monthly rent. We very much value your paying the registration fee for this program, if you are able to afford this amount.

Scholarships
We want anyone who wishes to study meditation and to experience the Shambhala view of basic goodness to be able to do so. Scholarships are available so that our programs are open to anyone, regardless of what tuition amount they are able to afford. (See link below if you are in need of a scholarship for this program. Scholarship requests are processed online, so that there is no delay in registration.)
A $35 deposit is requested if you cannot pay the full program fee now (unless you are requesting a scholarship). If requesting a scholarship, please go to scholarship page before registering.