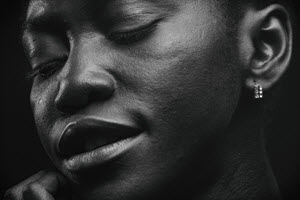 BIPOC Day-Long Retreat
with Dr. Shanté Paradigm Smalls & Justin Miles
Join us in cultivating human dignity, the necessary ground for healing personal, interpersonal, and social oppression. As Black, Indigenous, and People of Color, we face socially constructed, racial hierarchy and racialized violence that disconnects us from ourselves and others. Through practices of feeling, being and touching basic goodness, we can re-discover our dignity and humanity. The weekend retreat will include meditation, contemplation, discussion, and movement.
Open to Black, Indigenous, and People of Color with all levels of meditation experience, from any tradition.
Children are welcome at this program. When registering, please list the names and ages of children accompanying you in the comments section of the registration form.
This retreat has no set fee. If you wish, you may offer a voluntary donation on the day of the event.

About the Teacher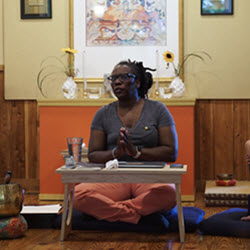 Dr. Shanté Paradigm Smalls is a student, practitioner, and teacher in the Tantric (Vajrayana) Buddhist tradition. Shanté began studying and practicing Buddhism at age 17 and has practiced in Zen, Sokka Gakkai International, Shambhala, and Bhumisparsha communities. Shanté trained from 2009 to 2015 as a teacher and was authorized to teach meditation and buddhadharma in 2015. Shanté is focused on the healing impact of meditation in Black & Indigenous communities, People of Color communities, LGBTQ+ communities, and incarcerated and recovery communities. Shanté is a Teacher on the Liberate App and teaches regularly on Weekly Dharma Gathering Online which they co-founded and curate.

Shanté's root guru is The Kongma Sakyong, Jamgön Mipham Rinpoche*. Shanté is currently studying with Lama Rod Owens and Lama Justin von Budjoss co-founders of Bhumisparsha and Karla Jackson-Brewer, Sangha Leader at NY Tara Mandala.

*NB: In 2018, credible allegations of sexual misconduct and abuse were revealed against Sakyong Mipham Rinpoche, to read more about this: https://bit.ly/32RqR5R