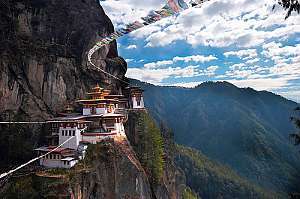 Sadhana of Mahamudra (New Moon)
Open to all!
The Sadhana of Mahamudra is a liturgical text that we practice on the new moon days when our moods and thought patterns tend to be most unruly. Composed by the Vidyadhara Chögyam Trungpa Rinpoche in a sacred cave in Bhutan (see picture) in 1968, the Sadhana was an important turning point in his presentation of the Buddhist teachings in the West. It is written for modern times, with the expressed intention of overcoming the obstacles and degraded spiritual practices in our time of spiritual materialism. Because it was meant for the current era, its potency is particularly strong.
The Sadhana of Mahamudra explains how to transmute the phenomenal world directly into enlightenment through meditation in action. This practice is full of symbolism which may seem very strange to new practitioners. Don't expect to understand it fully the first time you do it. As with all dharma teachings, understanding develops through patience and contemplation. We encourage newcomers to come in and experience how a sadhana practice feels.