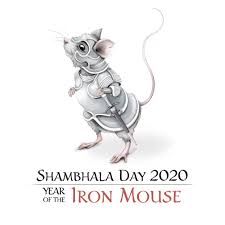 Shambhala Day 2020
You are invited to join the Baltimore Shambhala Center as we celebrate Shambhala Day. Together, we will enter the New Year of the Iron Mouse and welcome its qualities of adaptability, cleverness, and contentment. The mouse is the first symbol in the Asian astrological cycle, and is therefore associated with newness and beginnings.
Please join us for 108 gongs at sunrise, followed by group sitting and practice, and ending with a potluck feast celebration at lunchtime.
6:47 am (Sunrise) 108 Gongs
10:00 am Sadhana of Mahamudra – all are welcome
11:00 am Center Updates / I Ching Predictions
11:30 am All-ages activities and free time, lunch set-up
12:00 pm Lunch in the Shrine Room
1:00 pm Broadcast of the global video address*
Vegetarian/vegan options for lunch will be provided by the Center. Please click here to sign up for the potluck dish that you plan to bring to the celebration.
*Please note that Sakyong Mipham Rinpoche is NOT scheduled to be part of the global video address.