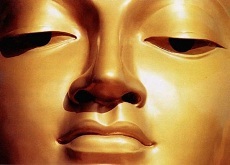 Foundations for Freedom: The Hinayana - Course I (Online)
with Acharya Susan Chapman & Acharya Fleet Maull
The First Noble Truth: Meeting Suffering with Maitri
This is the first in a series of five courses being offered by Shambhala Online exploring the profundity of the Hinayana teachings of the Buddha. Acharya Susan Chapman and Acharya Fleet Maull will guide an exploration of the nature of suffering from the perspective of the Four Marks of Existence--Impermanence (anicca), Suffering (dukkha), Selflessness (anatta) and Nirvana/Peace (nibbana)--and how we can meet suffering with maitri (unconditional friendliness). They will also guide students in the exploration and practice of Mindfulness of Body, the first of the Four Foundations of Mindfulness.
The emphasis will be on cultivating maitri or friendliness to oneself, and on the Shambhala teachings of basic goodness, gentleness and bravery–allowing us to meet the modern human condition with warriorship and dignity. The Four Noble Truths are used as the overall organizing principle, with the Four Foundations of Mindfulness interwoven to provide a meditative method for embracing the totality of our basically good experience—including pain and suffering—as our practice and working basis.
Each two-hour class will consist of watching one of the pre-recorded talks by Acharya Chapman and Acharya Maull, followed by discussion and reflection by class participants. These classes will be
recorded and made available to all registrants for future viewing.
A Zoom link for course access, a detailed schedule and suggested readings will be provided prior to the first class. If you registered through Shambhala Online and also want to participate in the Baltimore discussion, please email

[email protected]

to receive the Zoom link.
There are no prerequisites. This program is open to all!
Generosity Policy
To support the work of the Center, we suggest a contribution to help cover program expenses and overall maintenance. We estimate the approximate costs and value of this program to be $80. We are happy to accept an offering in any amount that you can afford, either above or below the suggested level. Your financial contribution is not necessary in order to take programs. It's important to our mission that everyone who's inspired to go forward on the Shambhala Buddhist path has our complete support. We are thankful no matter what level you can give, for it is your presence that enhances the health and well-being of our Center.