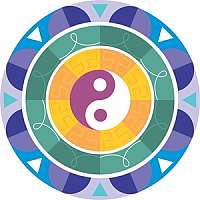 Social Meditation (In Person)
*** Join Social Meditation in person on November 14th at Cedarcroft Center at 6112 York Road! (Please see important location details below.) ***

COVID-19 Policies for In-Person Gatherings
Only attend if you have been fully vaccinated

Masks must be worn at all times
OPEN TO ALL!
Social Meditation is a practice which brings the wisdom of meditation into the vibrancy of social interaction. We practice communicating authentically by speaking from present-moment experience. Come and explore just being together in nowness!

This event is free and open to everyone. No prior meditation experience needed.
The evening includes:
• 20 minutes of individual meditation with instruction
• Social meditation instruction and practice
• Optional opportunity to connect with other participants after the main practice is over

► Cedarcroft Center is located at 6112 York Road; look for a two-story building with a State Farm Insurance office on the first floor. Please enter using the single door on the side of the building, then take the stairs to the second floor. Parking is available on-site in the lot shared with The Church of the Nativity and Holy Comforter. We regret that this space is *not* wheelchair-accessible, as there is no elevator in the building.