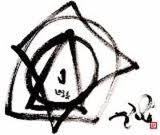 Shambhala Art, Part Two (In Person)
with Jennifer Parde
The Shambhala Art teachings celebrate art that springs from the meditative mind. They remind us to appreciate the uniqueness of everyday sensory experience, the art of everyday life. Seeing the simplicity and brilliance of "things as they are" provides the ground for genuine creativity, which is the expression of non-aggression.
Part Two: Seeing Things as They Are

We have reactions to things in our environment all the time, based on our judgments and past experiences. In Part Two of Shambhala Art, we begin not only to NOTICE our thoughts and reactions, but we begin to play with them, to parse them out: What is our conditioned response or label? How might we turn things upside-down or sideways? Is there a felt sense, underneath the thoughts? And can we tell the difference between felt sense and thought sense? Using a variety of experiential exercises, we explore and compare different ways of seeing and being. And, if we're lucky, perhaps we might leap out of the box of labels entirely, and discover a new perspective that brings delight.


NOTE: Shambhala Art, Part One is a prerequisite for taking Part Two. We are unable to accept registrations from anyone who has not taken Part One.

About the Teacher
Jennifer Parde is Baltimore Shambhala's resident Shambhala Art teacher. She is a full time singer/musician and music coach, as well as a part time healer and astrologer. Jen enjoys sensory exploration, both through her creative practices and through her daily hikes in nature. Embodied meditative, creative and magical practices are her happy place, which she loves to share with others.
Location
Hart Hall at The Church of the Nativity and Holy Comforter

Parking lot is located at 6112 York Road, Baltimore, MD 21212
►Building entrance is at the top of the wheelchair ramp facing the parking lot

*** This program is being offered at no charge. ***

Please contact [email protected] with any questions.