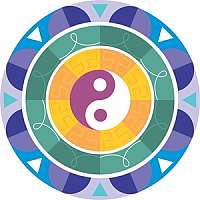 Social Meditation (In Person)
*** Join Social Meditation in person on July 18th at Cedarcroft Center at 6112 York Road! (Please see important location details below.) ***

OPEN TO ALL!
Social Meditation is a practice which brings the wisdom of meditation into the vibrancy of social interaction. We practice communicating authentically by speaking from present-moment experience. Come and explore just being together in nowness!

This event is free and open to everyone. No prior meditation experience needed.
The evening includes:
• 20 minutes of individual meditation with instruction
• Social meditation instruction and practice
• Optional opportunity to connect with other participants after the main practice is over. Bring a potluck snack if you wish!

► Cedarcroft Center is located at 6112 York Road, a block and a half north of Northern Parkway. Please enter using the single door on the side of the building, then take the stairs to the second floor. Parking is available on-site in the lot shared with The Church of the Nativity and Holy Comforter. We regret that this space is *not* handicapped-accessible, as there is no elevator in the building.

COVID-19 Policies for In-Person Gatherings
The Church of the Nativity and Holy Comforter asks that everyone wear a mask when entering its buildings.

Once attendees have arrived in the meeting room, the following policies apply:

If you are vaccinated, the choice of wearing a mask is up to you.

If you are not vaccinated, please wear a mask.

Please practice safe social distancing while part of the gathering.